Falcon trader secures export ban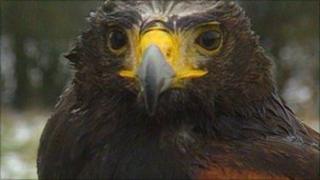 A Middle Eastern falcon trader has won a court order banning the export of young birds from southern Scotland.
The ruling was given despite the Court of Session in Edinburgh being told they had already left the country.
Yousef Al Salami took action after learning Andrew Memmory of Beeswing planned to sell them to another dealer in the United Arab Emirates.
Judge Lady Stacey granted an interim interdict preventing the sale of this year's birds without his authority.
Ross McClelland, counsel for Mr Al Salami, said he was seeking an order "to prevent the wrongful disposal of partnership property" or property that was owned in common by the two men.
He said they entered into a business arrangement in 2004 pooling their different skills and acquiring falcons and breeding them.
Some of the birds reared were kept for breeding with others being sold primarily in the UAE.
Mr McClelland said: "Turnover from sales in the UAE has been in excess of £300,000 in the last couple of years."
He said Mr Memmory had confirmed to Mr Al Salami that he was contracted for the sale of this year's birds to another falcon dealer.
Mr McClelland claimed the purported sale was wrongful and was a breach of the implied terms of the partnership agreement that only Mr Al Salami would sell into the UAE market.
Donald Davidson, counsel for Mr Memmory, gave an undertaking that the stock of breeding falcons would not be disposed of - with the exception of a white Gyr falcon owned outright by him.
However, he said that Mr Memmory denied there was a partnership and had concluded a contract over the sale of this year's birds.
"The vast majority of the so-called 2011 production birds have already been exported to the UAE," he said.
"The last shipment left Manchester airport yesterday.
"The birds have flown, albeit not under their own steam - they have gone."
Mr Davidson said a total of 120 birds were involved with 10 sold in the UK and 110 going to the UAE.
He said that if the birds had flown it would render the interdict "useless".
However, Mr McClelland said he was not in a position to accept that the falcons had left the country.
Lady Stacey said that in the circumstances she regarded the safest course of action was to grant the interdict stopping the sale or transportation of this year's birds.