Wigtown osprey chick concerns grow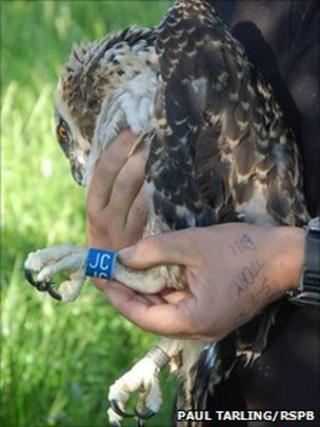 An appeal has been made to the public to report any sightings of a south of Scotland osprey chick which has not been seen for more than a week.
The bird - named JC - was last seen on 22 July at the Wigtown Bay site.
RSPB officer Ian Brown said it was "quite unusual" for such a young osprey to disappear from its nest.
A second chick, JD, has still been seen regularly at the site, which can be watched via CCTV at the County Buildings in Wigtown.
The public has been asked to contact the RSPB if they spot the bird, which has a blue plastic ring on its left leg with the letters "JC" written on it.
Mr Brown said: "We're all getting a bit concerned about JC, as it's quite unusual for such a young osprey to disappear from the nest like this.
"I was the lucky person who got to hold JC when she had her identity rings fitted.
"It really was a magical moment for me, and has led to fond feelings for this osprey chick in particular."
Mr Brown added: "Hopefully she is just enjoying her independence somewhere, but if anyone happens to spot JC, we'd be really eager to hear from them."