Galloway wildlife park raises closure fears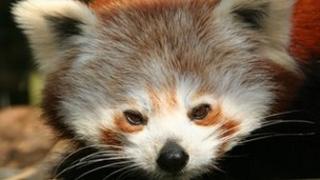 The manager of a south of Scotland wildlife park has warned it needs urgent funding to avoid closure.
John Denerley said the Galloway Wildlife Conservation Park, near Kirkcudbright, could be forced to shut in a "couple of months".
He said the centre had suffered a "serious blow" to its finances during the economic downturn.
The Dumfries and Galloway site is home to several endangered species, rare mammals and birds.
The GWCP has been operating in the area for more than eight years.
However, Mr Denerley said that it was now struggling to meet annual running costs of more than £100,000.
"We provide a local attraction to our local people which proves a massive benefit to the public, from not only the surrounding area but nationally too," he said.
"We educate local schools on the work that we do, which affects the world we live in, and we desperately need to continue this work - unfortunately we have taken a serious blow to our financial position during the economic downturn.
"We only have enough funds to survive for two more months at the most."
He has asked anyone who might be able to help support the site to contact them as soon as possible.