Borders palliative care unit gets £750,000 injection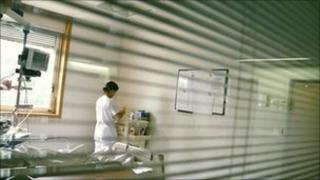 A new unit to care for terminally ill patients in the south of Scotland is getting a major funding boost.
The £4.5m palliative care facility, to be based at Borders General Hospital, is receiving a £750,000 injection from Macmillan Cancer Support.
The project is being taken forward in partnership between NHS Borders and several charities and groups.
A drive to bridge the funding gap will be launched in September, but several groups have started raising cash.
The Margaret Kerr Unit, named after the West Linton nurse whose £500,000 legacy kick-started the scheme, will be the first of its kind in the Borders, offering specialist palliative care and emotional support to people with incurable cancer and other life-limiting conditions.
Currently, inpatient palliative care in the area is provided in a hospital ward not specifically designed for the purpose.
Tom McInnes, development manager with Macmillan Cancer Services, said: "Staff here at Borders General Hospital already do a wonderful job, but to have a specialist unit will be so much better for everyone involved."
NHS Borders medical director Dr Ross Cameron said: "This will give us the chance to provide care in state-of-the-art, purpose-built facilities which will allow us to provide an even better service than before."
Building work is scheduled to begin early next year, with the Margaret Kerr Unit expected to receive its first patients sometime early in 2013.