Dumfries and Galloway wind farms could raise £3m a year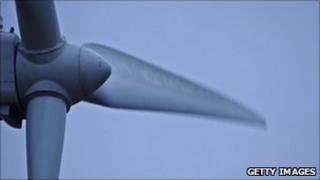 Wind farm developments in Dumfries and Galloway could contribute about £3m a year to local and regional projects.
Councillors are being asked to back changes to a framework which seeks to maximise the benefits from wind energy.
It would see developers asked to make an increased contribution to the community in which they place turbines.
If approved it is estimated that it would generate £1.9m a year for local projects and a further £1.2m going to region-wide initiatives.
The current arrangements for community benefits from wind farms have been in operation since 2005 - and since then there have been five such agreements.
Some 60% of the funds are allocated for local community council-led projects and the remainder to a regional energy-efficiency fund.
However, there has been a big increase in the number of wind energy schemes in recent years.
There are 26 developments of more than 5MW within the planning system and 148 smaller schemes.
A revised framework has been drawn up with the aim of ensuring so-called "host" communities - those within a radius of about 10 miles (16km)of a wind farm - get the full benefits.
Councillors are also being asked to support the appointment of a dedicated officer to manage the funds at a cost of £40,000 per year.