Scottish Borders black grouse show signs of revival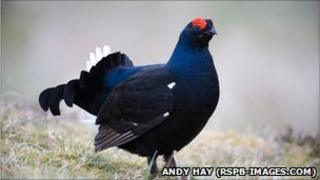 Black grouse numbers in the Scottish Borders have shown an increase of nearly 70% compared with last year.
A recent survey undertaken by the Southern Uplands Partnership (SUP) recorded 390 lekking males - up by 160 on the figure for 2010.
Lekking is the territorial display of male grouse during the mating season.
SUP project officer Chris Land said there was a need to build on the "momentum" by creating more suitable habitats for the "iconic species".
Upland sporting estates were shown to have contributed significantly to the total, with birds now showing signs of spreading into adjoining areas.
More than 50 were counted at the Duke of Buccleuch's Bowhill Estate, near Selkirk, where teams have been working closely with the local community to improve habitats.
Mr Land said: "There is a real need to build on this momentum through creating suitable habitats between the core populations to secure the iconic species' future in the Southern Uplands.
"Isolated populations will eventually die out if there is no genetic variation present, therefore connecting the core sites and establishing new sites is crucial to the species' long term survival prospects."
Derek Goodwin, head grouse keeper at Bowhill, said they were "really passionate" about seeing the bird flourish.
"We have been working alongside the SUP to address key ways we can work to improve the habitat for these birds," he said.
"We have made dramatic changes to stocking levels on our hills allowing key areas to be grazed.
"This has greatly improved the habitat for the successful rearing of chicks."
Other measures to improve biodiversity and address parasite control have seen black grouse numbers on the estate more than double.
"We hope to see this continue in the years to come," added Mr Goodwin.