Bequest care unit backed by NHS Borders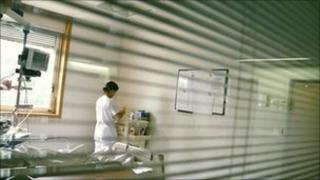 NHS Borders has approved the business case for a palliative care unit part-funded by a bequest from a nurse.
Margaret Kerr died aged 83 in 2009, leaving more than £500,000 to create a first hospice in the region.
Medical director Dr Ross Cameron said the funds would allow them to have "an innovative and inspiring facility" that would "greatly improve patient care".
The unit will be created by remodelling and extending one end of an existing ward at Borders General Hospital.
It will have its own entrance with adjacent landscaping and car parking, while at the same time retaining a link into the main body of the hospital.
Dr Cameron said experiences in other parts of the country and the views of patients, carers and clinicians had been taken on board.
"Building works and interior design will be carried out to a high specification throughout," he said.
"There will be en-suite patient rooms, as well as clinical areas, day rooms and accommodation for relatives.
"The aim is to create a comfortable, welcoming and peaceful building for everyone."
In recognition of the significant legacy left by Ms Kerr, NHS Borders had previously agreed to name the facility The Margaret Kerr Unit.
Her entire legacy will be used towards its creation.
'Firm pledges'
Dr Cameron added: "The creation of the Margaret Kerr Unit will be made possible by securing charitable support to cover the capital costs, which will be in the region of £4.5m.
"To date, considerably more than half of the total capital costs have been secured in the form of firm pledges from key stakeholders and partners in the project and we are extremely grateful for their support."
The remaining sum to be raised will be the subject of a local fundraising appeal and continuing approaches to grant making bodies.
The local appeal will be launched in September.
Construction is provisionally scheduled to begin in spring 2012, with the opening of the unit pencilled in for January the following year.