Jedburgh teenage girl hurt in rideout fall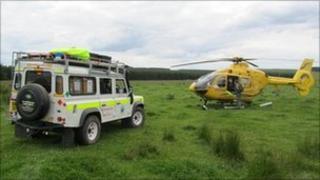 A 13-year-old girl was airlifted to hospital at the weekend after being thrown from her horse during a festival in the Scottish Borders.
It is understood the girl's horse fell on her after stumbling during Jedburgh's Redeswire rideout on Saturday.
Members of the Border Search and Rescue Unit were on hand to help the teenager at the scene of the incident.
She was then taken by air ambulance to Borders General Hospital near Melrose.
The Redeswire rideout is part of the Jethart Callant's Festival in Jedburgh.
It commemorates the Raid of Redeswire, a battle between Scottish and English forces in 1575.