Tweed valley osprey 'success story' celebrated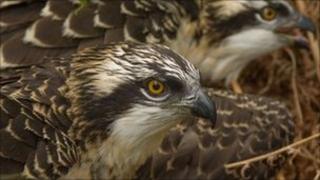 New osprey chicks in the Borders are being ringed in order to keep track of their progress and migration.
Conservationists say it is part of a "success story" for the population of the birds in the region.
In the past 10 years more than 100 osprey chicks have successfully fledged in the River Tweed area.
This year it is thought that the birds that hatched within Tweed Valley Osprey Project zone were the first in Scotland.
The ringing is part of an initiative run by Forestry Commission Scotland, RSPB Scotland and Kailzie Gardens.
Osprey officer Diane Bennett said: "At this particular nest we don't have precise details about the parents but we do know that the nest has been used for about four or five years in a row.
"Apparently one of the chicks that we ringed from this nest last year was photographed fishing in Gambia in the winter.
"It is always great to know that our chicks are making the migration successfully."
She said that by ringing the birds they could have a greater insight into their development.
"The ringing enables us to give the birds a quick 'once over' to check their condition and with Darvic rings in place, we will now be able to track their progress for many years to come," she said.
There are now nine active osprey nests within the Tweed Valley.
The public can watch some of them at Glentress Forest and Kailzie Gardens via CCTV cameras.