Edinburgh Woollen Mill buys Jane Norman sites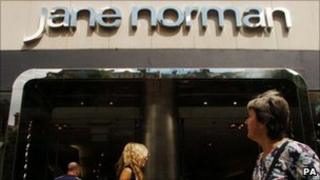 Langholm-based Edinburgh Woollen Mill has saved nearly 400 jobs by buying a number of Jane Norman stores after they went into administration.
Administrators Zolfo Cooper confirmed 33 of 94 shops had been bought by the south of Scotland company.
The deal also gives EWM time to consider the purchase of another 28 stores across the UK.
Administrators said there had been no interest in the remaining 33 sites which would now have to close.
The company's concessions in Debenhams will continue to trade with a view to securing a sale.
Women's fashion retailer Jane Norman went into administration earlier this week.
'Familiar presence'
On appointment, the administrators immediately agreed the deal with EWM which also includes the stock in all the stores.
Alastair Beveridge, a partner at Zolfo Cooper, said it had been an "exacting time for the company" which had a substantial amount of debt.
"We are pleased to have ensured the survival of such a familiar presence on the High Street, while securing the jobs of at least 396 Jane Norman employees," he added.
"Unfortunately, the sale has resulted in job losses, which we appreciate is difficult news for those involved.
"We would like to thank them for their professionalism and support during what has been an uncertain time."