Threave bat reserve survey under way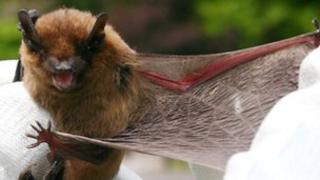 A survey of bats and their habitats is under way at Scotland's only reserve dedicated to the flying mammals.
The National Trust for Scotland's Threave Estate in Dumfries and Galloway is home to seven different species - including the rare whiskered bat.
The study is the first to be undertaken since the site became the nation's first dedicated bat reserve last year.
It will note changes in populations and locations of bats and see whether any new species have made Threave their home.
NTS nature adviser Lindsay Mackinlay said: "Threave's a fantastic place to see bats as they love the rivers, water meadows, woodland and farmland which we have in abundance there.
"It is the ideal home for many species of bats.
"We are now keen to see how the bats are doing on the reserve since our last big check five years ago."
The survey is taking place all this week and will look at more than 50 built structures and trees where bats are known to roost.
Karl Munday, senior ranger at Threave, said: "The bat reserve is proving a big success at Threave.
"As well as contributing to the scientific study of these mysterious mammals, we are finding that the public are very interested in our bat tours and enjoy the opportunity to try out some bat scanning for themselves.
"This helps people understand the animals more and encourages their care and protection, which is good news for these small, vulnerable creatures."
Both bats and their roosts are protected by law in the UK.
Over the past century, their populations have suffered serious decline.
However, NTS said there were now signs suggesting that some species' numbers might be starting to stabilise and recover.