Megrahi Lockerbie conviction inquiry talks sought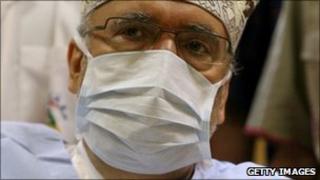 MSPs have said more talks should be held over an independent inquiry into the Lockerbie bombing conviction.
Abdelbaset al-Megrahi was convicted 10 years ago of the 1988 bombing of Pan Am flight 103 in which 270 people died.
A petition seeking a hearing into that verdict has been lodged with the Scottish Parliament by the Justice for Megrahi group.
Holyrood's public petitions committee has agreed to refer it to the justice committee for further consideration.
Petitions committee member, SNP MSP Bill Walker, said it was the right course of action.
He said: "I am desperate that the truth of this whole matter should come out.
"The truth must come out and we must do everything in our power to help it come out - this should go to the justice committee.
"This terrible thing happened a long time ago now and we must get to the truth sooner rather than later."
The petition, which was lodged by the group last year, calls on Holyrood to urge the Scottish government to open an independent inquiry into the 2001 conviction.
'Conspiracy theories'
Justice committee convener Christine Grahame sat on the public petitions committee in the last session.
During previous discussions on this issue, she said: "There are so many conspiracy theories around now that I think it's time that we had a clean, clear look at the role of Scottish justice in this.
"The issue is not whether Libya, or any other country, was guilty.
"The issue is, was Mr al-Megrahi rightly convicted, and we have not heard the answer to that yet."
The Scottish government has already refused the petition's call for an inquiry into the conviction.
Megrahi is the only man convicted of the 1988 atrocity.
He was released from prison in 2009 on compassionate grounds.