Galloway park's oldest captive-born lynx turns 21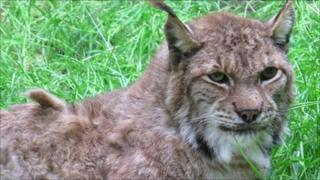 A cat thought to be the oldest captivity-born Eurasian lynx living in the UK has celebrated its 21st birthday in southern Scotland.
The lynx, named Frank, came to the Galloway Wildlife Conservation Park near Kirkcudbright eight years ago.
It was born in 1990 at Riber Castle Wildlife Park at Matlock in Derbyshire and moved to Staffordshire before reaching Dumfries and Galloway.
GWCP conservation manager John Denerley said Frank was a "really good lynx".
"I like looking at him up close," he said.
"He moves really slow."
Mr Denerley said the Derbyshire park where Frank was born was well-known for its Eurasian lynx collection before it closed in 2000.
He said the animal was possibly the last surviving one from the Riber Castle site.
The Eurasian lynx is Europe's biggest cat and the largest of the lynx family.
They live for up to 17 years in the wild, but in captivity they can live for up to 24 years.