Memorial for child victims of UK's worst rail crash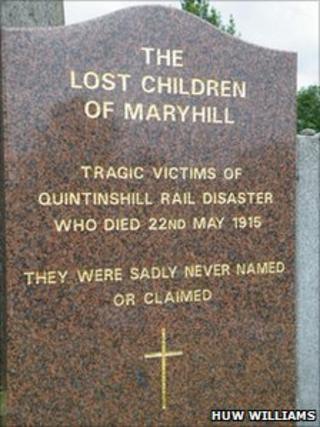 A memorial is being unveiled to three children who died near Gretna Green in Britain's worst ever rail disaster.
The "lost children of Maryhill" were among 227 people killed in a multi-train crash at Quintinshill in 1915.
Most of the victims were soldiers with the Royal Scots who were on their way to fight in World War I.
A headstone has been placed at the Western Necropolis in Glasgow, where the children were buried in an unmarked grave.
They were interred in 1915 along with a fourth unidentified person, whose age is not known.
Falkirk councillor Billy Buchanan, a keen amateur historian, arranged the memorial after hearing about the children, whose bodies were never claimed by their parents.
It is believed they had stowed away on one of three trains involved in the disaster, which happened when a troop transport carrying about 500 soldiers of the Royal Scots en route to Gallipoli crashed into one train before being struck by another.
The children were thought to have come from the Maryhill area and were later buried at the Western Necropolis cemetery.
The memorial headstone reads: "The lost children of Maryhill - they were sadly never named or claimed".
Mr Buchanan said: "It is unbelievable that no-one came forward to claim the bodies of these children in 1915 and we still don't know who they are.
"My aim with this memorial is to ensure that recognition and respect is given to these children and that they are remembered for posterity."
Mr Buchanan, who 17 years ago arranged a commemorative plaque at Larbert station where the Royal Scots had begun their fateful journey, said he hoped the publicity surrounding the "lost children" memorial would provide new leads in efforts to identify them.
He added: "Perhaps someone has an auntie or granny who might know something about these children. It would be great to find out who they were."
The provosts of Glasgow and Falkirk will attend the dedication of the memorial, along with representatives from the Royal Scots.
The Royal Scots suffered the vast majority of casualties in the Quintinshill disaster on 22 May, 1915.
A total of 215 were killed and about 250 injured after fire ripped through the wooden train, fuelled by the gas lamps used for lighting.
Most of the dead soldiers were buried in Edinburgh's Rosebank Cemetery in a plot marked by a large Celtic Cross.
Two signalmen were later jailed for their part in the incident.