Scottish hill farm decline impact revealed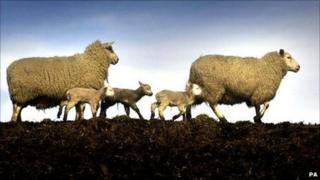 A new report on Scottish hill farming has highlighted the environmental impact of its decline.
The study, commissioned by Scottish Natural Heritage (SNH), focussed on sites in the north Highlands, western Scottish Borders and the Isle of Skye.
Scotland's sheep flock fell by nearly 2.9 million between 1998 and 2009 with a smaller drop in beef cattle.
SNH said the report could help target resources to help "protect important habitats, species and landscapes".
Three case studies formed the central part of the study: one in south Skye, one in the western Borders and one in the northern Highlands.
It found the negative impact on the natural heritage was greatest in south Skye and the northern Highlands, and it tended to be on the inbye land, closest to farmhouse buildings, where most of the changes were observed.
The full report concluded the difference could be due to the complete removal of livestock from large areas of hill ground and the abandonment of some croft land in those areas.
Although sheep numbers had declined in the western Borders, it was discovered most of the hill and inbye ground remained actively managed.
Where livestock numbers continue to fall and the land is neglected, however, the report said grassland habitats and vegetation were likely to deteriorate and particularly be affected by the spread of bracken.
SNH said the report should help "target support for nature-friendly farming".
Ron Macdonald, SNH's head of policy and advice, said that over the years there had been "huge changes in land management and livestock numbers in the hills of Scotland".
He added: "These will have major impacts on the landscape and biodiversity as well as on rural communities.
"Some of the impacts will be positive and some negative; some will take longer than others to come to light.
"We need to maintain a sound understanding of how these changes will affect the natural environment, and where we need to target our resources effectively in order to protect important habitats, species and landscapes."