Peebles survey supports new River Tweed road bridge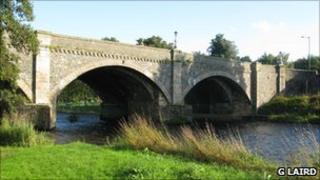 A survey on transport plans for a Borders town has backed the building of a new bridge over the River Tweed.
Council planning officers believe a new crossing is needed in Peebles to cope with any further housing expansion south of the river.
About two-thirds of residents who were asked their opinion on the proposals came out in favour of the plan.
A full report on the findings will be presented to Scottish Borders Council later in the summer.
The consultation was carried out during a public exhibition at the Eastgate Theatre in the town.
It found a majority of people in favour of the scheme but a significant minority - about 28% - said they opposed the plan.
Meanwhile, the top three traffic and transport-related issues that cause concern in the town - according to consultation responses - were traffic volumes, pedestrian safety and traffic speeds.
It was hoped a final decision on a preferred way forward for traffic plans in the town could be made by the middle of next year.