Borders Book Festival gets under way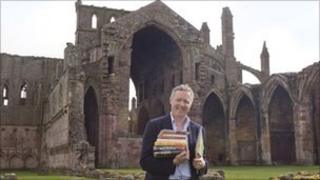 One of Scotland's top literary events, the Borders Book Festival, is getting under way in Melrose.
Sarah Brown, the wife of ex-prime minister Gordon Brown, is among those taking part in the four-day programme.
Other authors taking part in the festival include Larry Lamb, Maureen Lipman, Rory Bremner, Michael Parkinson, Peter Snow and Rory McGrath.
The winner of the second Walter Scott Prize for historical fiction will be announced at the event.
Last year it was awarded to author Hilary Mantel for her novel Wolf Hall.
Ticket sales for the event have proved very strong with a number of events selling out quickly.
For the first time this year people who missed out on places to see their favourite authors will be able to watch them via videolink.
Director Alistair Moffat said the public response showed that book festivals were "bucking the trend" of the economic downturn.
He said the "diversity, verve, sheer quality and promise" of this year's event was "extraordinary" and promised to make it the best since it started eight years ago.