Bill McLaren Hawick rugby museum proposals unveiled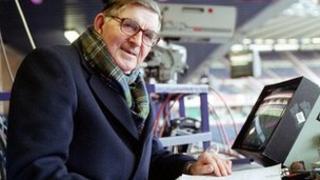 The Bill McLaren Foundation (BMF) has announced plans to establish a Museum of World Rugby in his honour in Hawick.
The £4m project aims to provide the famous commentator's home town with a "worldwide attraction".
It is hoped the museum will tell the story of the sport using Mr McLaren's distinctive voice as much as possible.
BBC Scotland has given its support to the project by granting access to its archive of matches on which he commentated over half a century.
Mr McLaren's daughter, Linda Lawson, said her father would have approved of anything which helped his home town.
"He would have been mystified by all of this, I think," she said.
Ms Lawson said her father was well-known for getting "the first bus, the first train or the first plane back to Hawick", no matter where he was in the world.
She said: "He loved Hawick and if he can bring people to Hawick and provide something that helps the community to thrive he would be absolutely delighted.
"Although he would be very, very surprised as well."
Potential locations
Scottish Borders Council plans to back the foundation in its search for a suitable site for the museum.
The BMF hopes to raise the funding required via major financial backers, gifts, donations and sponsorship.
It also aims to secure valuable support from the Hawick community and get public input on potential locations for the facility.
The goal is to have the museum up and running within the next three years.
Mr McLaren died in January 2010 after a lengthy rugby commentating career with the BBC.
The charitable foundation set up in his honour aims to support the development of rugby and its values, and recognise his contribution to the game.