Dumfries and Galloway Council apology over data blunder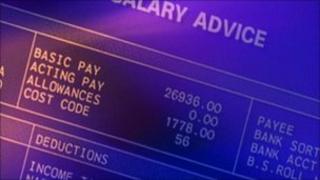 Dumfries and Galloway Council has apologised to about 900 staff after it gave out personal data which was then published on the internet.
The details were given out in error in response to a Freedom of Information request on employee salaries.
Staff names and dates of birth were disclosed and subsequently put onto a website on 23 March.
The council had the information removed as soon as it was told about it by Unison union officers on 1 June.
The FoI request was one of a series made to all local authorities across Scotland about workers on protected pay deals.
DGC admitted it had given out additional worker details in error.
A council statement said: "The council regularly provides salary information in response to inquiries.
"However, in providing this information, some employees' names and dates of birth were disclosed by mistake.
"Some details of their employment were also supplied, however this is not classed as personal information."
All of the information was then posted on the internet, on a website specialising in highlighting FoI requests, where it was available to view for more than two months.
The situation was pointed out to the trade union Unison which immediately highlighted its concerns to the council.
The authority had the details removed and also contacted the UK information Commissioner's office about the incident.
The council statement added: "The council has contacted all of the employees affected by this incident and apologised."
It said steps were being taken to prevent any repeat of the incident.
Unison branch secretary Marion Stewart said the council had been unaware the details were on the website for about 10 weeks.
"They had no idea this had happened until one of our members phoned me," she said.
"As soon as we made them aware of it, within two hours it was off the website - we couldn't have asked for a quicker response."
The union has now advised the staff involved to complain to the council and the information commissioner.
It has also told them to keep a close eye on all bank and credit card accounts for unusual activity due to concerns about data fraud.
Ms Stewart said it was particularly upsetting for the staff involved as they are workers who will see their wages reduced at the end of a three-year protected period.
"We have 900 disgruntled members of staff," she said.
"As of next year they will have a cut in salary, so they are already feeling undervalued."