Wigtown osprey chick hopes fade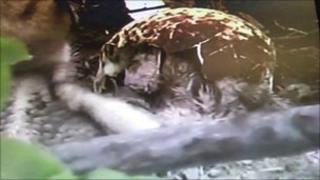 Osprey watchers in south west Scotland fear that a third chick hatched at a nest in the region has not survived.
The Wigtown Bay project announced the arrival of the bird last week.
However, Elizabeth Tindal, of Dumfries and Galloway Council's Ranger Service, said it was becoming "increasingly obvious" that the chick had died.
Bad weather and competing with other birds in the nest for food have been blamed for harming its chances of survival.
"It looks like we no longer have three chicks," said Ms Tindal.
"We saw the third egg hatch after a great deal of difficulty and we could see the chick for the day after that trying to get fed but what with its older siblings and the terrible weather it had no luck.
"Since then we have been unable to definitely say that we saw it."
She said greenery around the nest had initially obscured the view of the nest.
"Now that the weather is better and the chicks are becoming more active, moving around, it has becoming increasingly obvious that there is no third chick," she said.
Ms Tindal said the other two chicks seemed to be "strong and healthy".
The Wigtown Bay osprey project has been running for the last four years.
It allows the public visiting the County Buildings in Wigtown to watch the birds in their nest via CCTV.