Selkirk workers lose jobs following dye factory fire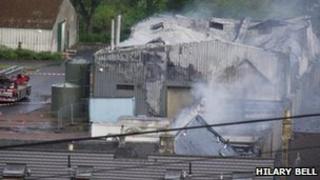 Staff at a Selkirk dye factory have lost their jobs after a fire destroyed their place of work last week.
Bosses said the Bridgehaugh Dyeworks building on South Bridge Street would have to be completely demolished.
A total of 25 people were employed by the business, which is said to have had a healthy order book and had just been taken over by a new manager.
However, staff were told on Monday afternoon that only two posts at the site could be retained.
About 50 firefighters were called out to the fire on Thursday at about 0250 BST.
They eventually brought the flames under control but not before the building had been severely damaged.
A spokesperson for Bridgehaugh Ltd said: "Fortunately no-one was onsite at the time of the fire.
"We are awaiting the final report from the fire service's investigation into the cause of the blaze last Thursday, but early indications point to an electrical fault.
"Due to the ferocity of the fire, the building is entirely out of commission and unfortunately will need to be completely demolished."
'Minimal disruption'
The company is still assessing the overall impact of the fire but said its yarn store had not been damaged.
"We have contacted other dyers in the area with a view to taking over some of our orders, ensuring minimal disruption to our customers," said the spokesperson.
"Regrettably, we will be unable to resume trading in the near future and therefore have had no choice but to let the majority of staff go.
"We will help them in any way we can during this difficult time."
Industry body Textiles Scotland said it would offer any assistance it could.
A spokesperson said: "The textiles industry in Scotland has proved many times in the past how it can pull together in times of need and we are sure this will be no different.
"The industry will help the owners of Bridgehaugh Ltd in any way it can as they fully assess the damage and move forward.
"Scottish Enterprise has also offered up assistance to the company and staff and will work with them closely over the coming months."