Selkirk dye factory fire 'under control'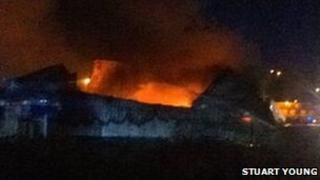 About 50 firefighters have brought a blaze under control at an industrial dyeworks in the Borders.
The alarm was raised at Bridgehaugh Dyeworks in South Bridge Street, Selkirk, at about 0250 BST.
Lothian and Borders Fire and Rescue Service had eight pumps and one high-rise appliance at the scene in order to extinguish the fire.
No-one was injured but local residents were advised to keep their doors and windows shut.
An LBFRS spokeswoman said: "The fire is now under control although there will be hot spots in the building and crews are expected to be at the scene for several hours.
"A number of mixed chemicals for dyeing were involved in the fire and as a result, we sought advice from scientific advisors about how best to manage those issues.
"Local residents were asked to stay indoors due to the nature of the incident and because of the volume of heavy smoke.
"Fortunately there was no one in the building at the time of the fire and no reported injuries."
LBFRS group manager Stuart Stevens said there had been a number of issues to contend with.
"We were having a bit of an issue with the gas but the gas board have arrived and through our firefighters we have managed to isolate the gas supply," he said.
"That has really helped the firefighting operation."
Keith Hendrie, who retired last month after many years in charge of the business, said it was "absolutely shocking".
"This is the last thing in the world I thought would ever have happened," he said.
"It is absolutely unbelievable things like this can happen."