Scottish Borders minimum alcohol price support move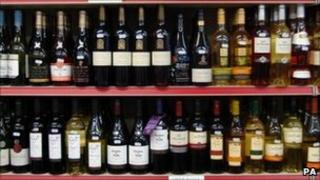 The administration of Scottish Borders Council is seeking support for moves to set a minimum unit price for alcohol.
It has drawn up a motion for the full council urging the Scottish and UK governments to take action.
Councillor Gavin Logan, who chairs the region's licensing board, said it would be a "step in the right direction to reduce this country's booze culture".
He added: "The negative impact it has on people's health, and society in general, cannot be ignored."
The motion will be debated by the full council when it meets on Thursday.
It backs a minimum unit price for alcohol of at least 45p and calls for the Scottish and UK governments to ensure the licensed trade invests any increased income on "alcohol-related support programmes".
Mr Logan said: "This move would help tackle incidents which occur as a direct result of alcohol, including widespread violence and domestic abuse."
Councillor Alec Nicol, chairman of the Scottish Borders Community Safety Forum, said it fully supported the motion.
He added: "We also think it is vitally important that any increased revenue generated by retailers is directed, by legislation, into alcohol-related initiatives and support programmes."
Last year SNP MSP Christine Grahame suggested the Borders could be used to pilot the pricing plan in Scotland.
However, that was criticised by her Lib Dem and Tory counterparts and received a mixed response from the public.