New Scottish Borders wind farm guidance approved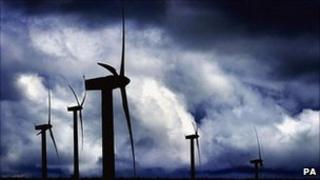 Councillors in the Scottish Borders have approved updated guidance on criteria to be applied to wind farm applications in the region.
A number of developments across the area have proved controversial and led to significant opposition campaigns.
Now the council has moved to clarify advice offered to wind farm opponents and would-be developers.
Planning committee chairman Jock Houston said the guidance "improved and tightened up" previous directions.
He said it clarified what criteria developers would need to meet in order to see a wind farm approved.
'Delicate balancing act'
However, he added that it also explained what grounds opponents could cite to seek refusal of a project.
Mr Houston said that was part of a delicate balancing act facing the Borders.
"Developers obviously go for the places where there is more wind and they can generate more electricity," he said.
"But they are running up against people in the Borders and elsewhere who say: 'You cannot destroy this tremendous environment which we have inherited'.
"So I think developers will realise it's going to be harder to convince the planning committee and reporters that they have a valid application."
He said it would also "give comfort" to people who felt the Borders had already made its contribution to renewable energy targets.
"Using this guidance we can say there are large areas where there shouldn't be any more or shouldn't be any at all," he said.