Gretna community to buy football ground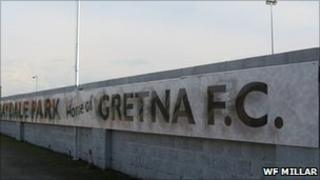 A £250,000 deal has been agreed for a community buy-out of the Raydale Park football ground in Gretna.
It follows two years of negotiations between the Raydale Community Partnership (RCP) and the current owner of the site which includes the ground, social club and Sunday market.
It will enable East of Scotland League side Gretna 2008 to continue to play its home games there.
The group's chairman Craig Peacock said he was delighted with the outcome.
Former SPL side Gretna FC went bust in 2008 and the ground was put into the hands of administrators who sold it to developers.
In the meantime, a new club, Gretna 2008, was formed and joined the East of Scotland League, initially playing home games in Annan.
A year later, it was agreed the team could play at Raydale Park.
Now RCP said it had now concluded a deal with owners Sawtry (loM) to buy the ground for the community.
The organisation is using a £150,000 council grant and a commercial bank loan to finance the purchase.
"It has been a long hard slog ... with lots of stoppages within the negotiations because of various reasons," said Mr Peacock.
"But we have finally got there and we are absolutely delighted to bring Raydale Park back into community ownership."