Dumfries Crichton Campus seeks new development 'vision'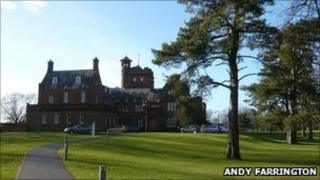 A new "vision" is being sought for a university campus and its surrounding area in the south of Scotland.
It would drive educational, business and residential developments at the Crichton Campus in Dumfries.
A report to Dumfries and Galloway Council says current lease arrangements on the land are "complex, unwieldy and no longer fit for purpose".
It suggests talks be held to review that deal and look at ways to develop what it calls a "Crichton Quarter".
The move has been sparked by a nearby project at Ladyfield looking to offer up to 400 new energy-efficient properties and large and small business premises.
Council officials believe it could be combined with developments on the Crichton Campus to help in "releasing potential" on both sites.
They say the opportunity exists to:
review lease arrangements between the council and the Crichton Trust which are due to run out in 2016;
increase private rather than public sector investment;
address transport issues between the Crichton and the town centre;
achieve stronger partnership working with NHS Dumfries and Galloway.
The report will go before councillors next week asking them to note developments towards a new vision for the site and agree a review of existing lease arrangements.