Bill McLaren group gives Hawick High School first award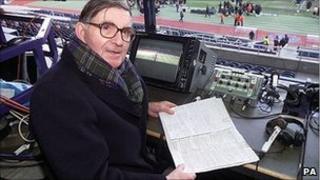 The Bill McLaren Foundation, set up in the commentator's honour, has given its first grant to Hawick High School.
It will help fund The Class of Rugby - a pilot project involving the school, Scottish Rugby and Borders College - delivering a rugby course to S3 pupils.
Mr McLaren's daughter, Linda Lawson, said the school where her father taught had been "very close" to his heart.
Head teacher Alan Williamson said the school felt "very privileged" to be able to pilot the scheme.
A total of £2,000 has been awarded by the foundation.
Ms Lawson said: "As well as fulfilling one of the aims of the foundation 'to develop and promote the game of rugby and its values', this grant also emphasises his passion for teaching.
"The foundation has now reached the stage where we have a modest sum available from which we can award grants.
"We're looking at a number of applications from all over the UK and are looking forward to announcing other national projects shortly."
Mr Williamson said the funding was very welcome.
"This grant will enhance The Class of Rugby and help develop the course content," he said.
"The additional significance of Bill having taught here makes us even prouder to have been awarded the first grant from the Bill McLaren Foundation."
Mr McLaren died in January 2010 after a rugby commentating career with the BBC spanning half a century.
The charitable foundation was set up following his death with the goals of supporting the development of rugby and its values, and recognising his contribution to the game.