Queen of the South fundraising auction includes bullock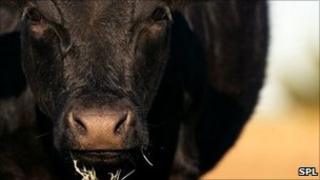 A fundraising auction for a Scottish first division football team, which included the sale of a bullock and a heifer, has raised £6,000.
It was the latest in a series of events to help struggling Dumfries side Queen of the South.
Proceedings got under way at the town's auction mart on Huntingdon Road after its livestock sale.
Dozens of items were donated to help the side facing "extremely difficult trading conditions".
The Palmerston Park club has reported six-figure losses in the last couple of financial years and is expected to do so again this campaign after a series of costly match postponements.
It has prompted directors to warn there is no option but to cut the budget for player wages.
In response to the financial difficulties, fans have set up a Save Our South campaign to help raise funds.
The full list of items to be sold ran to more than 40 lots.
As well as the Aberdeen Angus bulling heifer and one-year-old bullock it included a farm gate, 15-dozen free range eggs, 10 litres of magnolia matt emulsion paint, two large bags of dog biscuits and a leather office chair.