David Hume anniversary marked in Chirnside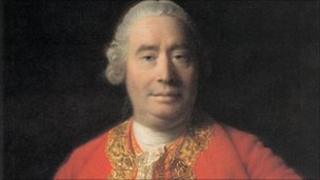 A small Borders village is celebrating the 300th anniversary of the birth of its "world famous son" David Hume.
A philosophy festival and Enlightenment evening is being staged in Chirnside, Berwickshire, in his honour.
The event is described as an attempt to "engage all ages in Britain's greatest philosopher, his thinking, and Scotland's Enlightenment".
Among the attractions on offer is a new David Hume beer being served in a number of pubs.
The Chirnside celebration, in the week of Hume's birthday, began on Tuesday when a free exhibition opened at the local community centre.
The philosophy festival on Saturday ran from 1000 BST to 1700 BST, with the Enlightenment evening taking place between 1930 BST and 2130 BST.
Some 30 pupils from Chirnside Primary School will perform a philosophy play called "Unanswerable Questions", co-written with their drama teacher Eloner Crawford.
'Plaque unveiling'
A new David Hume essay prize for Borders high school pupils, praising the Enlightenment virtues of free thinking and debate, will also be awarded to "the Borders' next great thinker".
Philosophers Dr Peter Millican of Oxford University and Dr Alasdair Richmond of Edinburgh University will be on hand to open up Hume's thoughts on human nature, knowledge and morality.
His biographer, Roderick Graham, author of The Great Infidel, will also attend proceedings.
Finally, the chief executive of Scottish Borders Council, also called David Hume, will unveil a plaque and information panel marking the village's connection to his namesake, who grew up at nearby Ninewells Farm.