Gamesa's Glenluce wind farm scheme rejected by council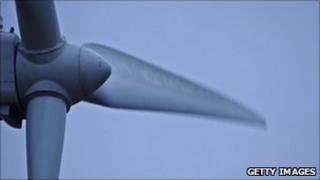 A proposal to develop an 18-turbine wind farm in Wigtownshire has been rejected by councillors.
The application was previously deferred to allow a site visit to be carried out by members of Dumfries and Galloway Council's planning committee.
Developer Gamesa Energy UK wanted to construct the farm along with a control building housing 40 solar cell panels at Carscreugh Fell near Glenluce.
Planning officials had recommended approval for the project.
Councillors went against that advice and refused the application due to concerns about its landscape, visual and archaeological impact.
The company, which described the scheme as a renewable energy park, first tabled the plans in 2006.
The design blueprint was later modified in response to concerns about the environmental impact of the development.
The changes to the plans saw both the RSPB and the Galloway Fisheries Trust withdraw their objections.
However, many local residents remained opposed and listed a series of concerns including visual impact, turbine noise and the potentially damaging effect on tourism and property prices.
Planning committee councillors also had reservations about the project and decided to refuse the application.