Tweedlove Borders bike festival events launched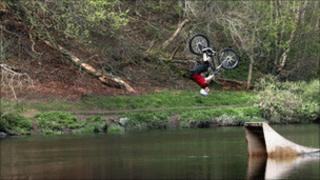 Borders cycling festival Tweedlove has launched its 2011 plan of events, which includes a gig by indie band Frightened Rabbit.
The week-long event is in its second year and aims to "reinforce the Tweed Valley's reputation as the premier cycling destination in the UK".
The festival had a £10,000 funding boost in February from EventScotland, the national events agency.
The Tweedlove bike week takes place around the Tweed Valley on 11-19 June.
There are free and paid bike-based events open to everyone, combined with professional races and other entertainment.
The Peebles Sprint aims to emulate Belgian road cycle competitions with 40 riders racing at high speeds around the Peebles town centre.
Indie rockers Frightened Rabbit are originally from Selkirk and will headline the new 'Crank it up' closing concert of the festival in Peebles Burgh hall.
Festival founder Neil Dalgleish said: "It might be unusual for a bike festival to include a gig but mountain biking is one of the world's coolest sports."
This year's festival has been organised by the local community in the Scottish Borders, with anyone from Lothian and Borders police to local businesses and cycle clubs helping out.