Borders cycling project secures £175,000 in funding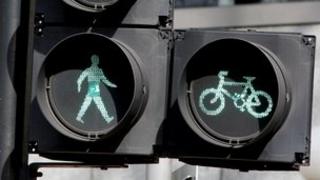 A project to promote the Scottish Borders as a cycling destination has secured £175,000 of funding.
The two-year package comes from the area's Leader programme, funded by the European Union and Scottish government.
The Scottish Borders Recreational Cycling Group (SBRCG) hopes to "maximise the potential" of high-profile events and improve its website.
Nicola Watt of Scottish Enterprise said the project had seen a "step change" in leisure cycling in the region.
The SBRCG initially secured funding support from Scottish Borders Council, Leader and Scottish Enterprise in 2009.
It has since supported a range of activities to promote the area to cyclists.
That has included training and workshops for businesses involved in cycling tourism, product development and new route guides.
Councillor Vicky Davidson, SBC's executive member for economic development, said events like the Tour of Britain had enhanced the region's reputation.
'Second phase'
"The Grand Depart of the whole tour will be in Peebles this year and events like this provide an amazing platform to showcase road cycling in the region," she said.
"The SBRCG, supported by the council's economic development team, will work with local businesses so that as much of the expenditure as possible is retained in the local economy."
Ms Watt said a number of new ventures had been started in the Borders by getting companies to work together.
"The region now has several businesses offering bike transport services," she said.
"More cycle hire facilities and more businesses are taking part in the Cyclists Welcome Scheme than any other area of Scotland.
"This second phase of funding provides an excellent opportunity to generate even greater impact on the progress made so far."