Dumfries film Zombie Musical seeks Bafta Scotland glory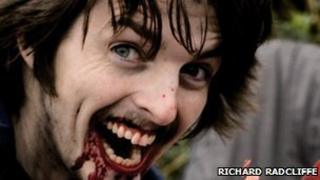 Ryan McHenry is not a fan of teen movie High School Musical but it did provide him with a moment of inspiration.
It crossed his mind that the only way he might enjoy the film would be if the whole cast were eaten by zombies.
It produced an idea which is now in the running for best director (short form), best producer (short form) and original music honours at the Bafta Scotland New Talent awards.
He admits he has been stunned at the recognition the short film, Zombie Musical, has received.
"It was exciting, I was quite taken aback," the former Dumfries Academy pupil said.
"I just got really excited about it - the fact that we got three nominations, we seem to have the most nominations in the show.
"Even if it comes across that we don't win, it's nice that we are getting noticed anyway.
"The headlines have been 'Zombies lead the Baftas' and stuff like that, so people are recognising what we are doing."
Ryan, 23, is in the running for the director award while Toby Mottershead is nominated for original music.
Along with them, in his role as producer, is Inverness-born Naysun Alae-Carew who moved to Dumfries as a child.
"I think it is really nice that it's something different in Scotland as well," he said.
"We don't think that to make a great film in Scotland it necessarily has to be dark and moody.
"We think we can make something which is really fun, that is very commercial and has an international appeal."
He said the Bafta nominations were something of a vindication of that view.
"It's really nice that it has been recognised by the establishment - even if it is just at the short film stage," he said.
"But it is obviously the kind of thing that we want to replicate with a feature film as well.
"It is great to think Zombie Musical can be leading something like the new talent Baftas."
The pair's film-making story began when their paths crossed at Naysun's 18th birthday party.
He was a pupil at St Joseph's College in Dumfries, with Ryan at Dumfries Academy.
They went their separate ways to study but kept in contact through various film projects.
Naysun has now graduated in economics, while Ryan is in his final year at Edinburgh College of Art.
It was while studying that the idea for the short film came to him.
"In third year at uni we have to think up an end-of-year film," Ryan explained.
"At the time I was quite short on ideas and I was trying to get some inspiration.
"I saw a trailer for High School Musical, which I don't like.
"At the time I was like, really, why are they making a third one?
"The only way I would go to see that is if the whole cast got eaten by zombies.
"And then I started playing with that idea."
He also told a lot of people about the concept. So many, in fact, that he felt he had to see it through.
"I don't like to go back on my word so I really thought, I'll give it a go," he said.
That was when he got in touch with Naysun, who was not sold on it at first.
However, it gathered momentum as local Scottish Screen commissioner Mark Geddes helped with locations and some funding.
And their fledgling company, Haphazard Media, took it forward.
Naysun said: "We managed to call in a whole load of favours and work with a lot of friends.
"It made for a really great-looking, high quality film done for very, very little money."
The film was shot at various locations in Dumfries.
They included Queen of the South's football ground Palmerston Park, a street in Troqueer and Ryan's old school.
"I was at Dumfries Academy, which is one of the schools we used for Zombie Musical as well," he said.
"They decided to let me back in, which was nice, but we did get blood all over their carpets."
Now the hope is to turn the short film into a full-length feature.
Naysun said: "After we made Ryan's Zombie Musical, it was seen by Black Camel Pictures, a Glasgow film production company - they've made a great film called Outpost.
"They saw this film and they were like: 'These guys are doing something similar, they are obviously talented - come and join us'.
"So I have started working with Black Camel.
"Ryan is in the middle of writing the feature version of Zombie Musical.
"It is actually really exciting to have this one film have led to so many opportunities."
The Bafta nominations, they hope, will be a springboard to other ventures.
Ryan said: "I am going to see where everything takes me I guess.
"I will see what happens with the Zombie Musical feature and see how well it does.
"When I made silly films when I was younger it was a case of, I know what my friends will like, this is the kind of comedy stuff that I will do.
"I always tried to imagine what I would like to see at the cinema as well.
"I just want to keep coming up with good ideas and good films for people to enjoy.
"I'm not so much bothered about money at the end of it, just having a good reputation at making good films."
'Family atmosphere'
However, Naysun admits they would like to see their productions get "bigger and better".
"We have always worked with our friends and we want to continue to be able to do that," he said.
"It is a real family atmosphere which is just really nice because so many of us grew up together and we want to work with all the new friends we have found.
"We have got lots of productions in development now with Black Camel.
"It is just going great, in fact there is far too much to do, which is a great position to be in at our stage.
"Hopefully it will continue, we'll see how the next year goes."
The Bafta in Scotland New Talent Awards take place at the Glasgow Film Theatre on 24 March.