Foot-and-mouth vaccination 'viable'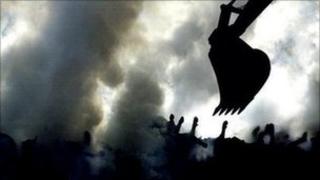 Vaccinating animals against foot-and-mouth and returning them to the food chain could be a "viable alternative" to mass culls, a conference has heard.
The meeting discussed the "significant" role vaccination could play.
The conference in Edinburgh was attended by farmers, vets and both the Scottish and UK governments.
NFU Scotland president, Borders farmer Nigel Miller, said the industry had a "duty" not to repeat the scenes of the UK's worst outbreak 10 years ago.
Millions of animals were slaughtered in 2001 to try to control the disease.
The worst-affected area was Cumbria, with neighbouring Dumfries and Galloway the hardest hit in Scotland.
More than 100 delegates attended the conference at the Moredun Research Institute looking at how any future outbreak might be handled.
Farmers, auctioneers, food processors, retailers, scientists, consumers, pharmaceutical companies and vets were among those represented.
They discussed both future control models for the disease and the new international and European framework for foot-and-mouth disease control.
They heard that a policy which sees animals vaccinated to control the disease and then enter the food chain "may provide a viable alternative to the mass cull of animals seen during previous epidemics here".
'Left scars'
They also discussed the practicalities of vaccine manufacture and distribution, when and how the vaccine could be used and challenges vaccination may present.
Veterinary virologist Peter Nettleton said vaccination was the "modern alternative" to mass slaughter.
He said: "The use of vaccination to resolve the next outbreak could help to prevent the tragic scenes, social upheaval and psychological trauma that were witnessed 10 years ago."
Mr Miller said farming was obliged to look at ways to handle things differently.
"Fundamentally, we must find a way to avoid the scenes of mass slaughter of 2001," he said.
"The economic disruption caused by culling livestock from huge areas, and the scars that left on both individuals who were directly affected and the wider countryside, is not something any of us want to see again.
"It is our duty as an industry to equip ourselves with the tools to ensure those scenes are not repeated."