Queen of the South: From Hampden Park to hard times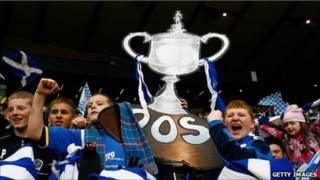 It was the closest I have ever come to fainting at a football game.
And it was also the first time I found myself dancing hand in hand with another man.
Queen of the South's pulsating Scottish Cup semi-final with Aberdeen at Hampden in 2008 was that kind of game.
It opened the doors to a final with Rangers which in turned paved the way to European football.
Followers of the Dumfries side had never had it so good.
Yet in the space of less than three years the atmosphere has changed around Palmerston Park.
The club is still performing respectably in the Scottish First Division and has a Challenge Cup final to look forward to next month against Ross County.
But off the pitch things are not quite so rosy.
A club which reported a profit a couple of years back is now staring at cumulative losses of more than £1m.
Those figures were reported prior to a season in which the club has seen revenue streams cut off by an unprecedented string of match call-offs.
Club chairman David Rae admits it has put "severe pressure" on the Doonhamers' finances.
Queen of the South, of course, are not alone in their plight.
Many Scottish clubs have been in and out of administration while others rely on benevolent banks in order to stay alive.
Nonetheless, the warnings in the latest club accounts have a stark sound.
They raise significant doubts about the ability of the south of Scotland outfit to continue as a going concern.
Directors have said they are confident the club can return to a profit in the long-term but they have not ruled out a return to part-time football in order to achieve their goal.
Feel-good factor
How did the club go from Hampden to such financial hard times?
It is not so hard to understand, really, in a time where every team is feeling the pinch and perhaps everyone got a little carried away with the feel-good factor.
In December 2008, the club showed a profit of more than £500,000 with turnover up more than £1m on the previous campaign.
About 9,000 fans had travelled to the cup semi-final, with even more heading to the final which ended in narrow defeat.
The spin-offs were also felt in terms of merchandising and season-ticket sales.
But every season cannot bring a Scottish Cup run and a spot in the Uefa Cup.
In February 2008, Queen of the South revealed they had struck a deal with Tesco which would see the supermarket giant hand back a former store site next to Palmerston Park.
It would bring to an end a £50,000-a-year payment from the firm to the Dumfries side.
Chairman David Rae said that rental was "very cheap" and the club should have been getting nearer £250,000 per annum for the site.
He hoped the building could be used to help boost revenue with the prospect of indoor training facilities, ten-pin bowling or office accommodation being considered.
After three years, however, none of those plans have been realised.
Queen of the South make some money from charging from car parking on match days but the former superstore building itself is now something of an eyesore.
And the £50,000-a-year is sorely missing from accounts.
Crowds at Palmerston Park have also fallen away since the season after the cup run.
So far this campaign average league attendances have been a little below 1,900 at Palmerston Park. Last year they stood at 2,364 and in 2008/09 that figure was even higher at 2,681.
The Doonhamers raised season ticket prices and admissions this summer in a bid to tackle rising losses but this has failed to have the desired effect.
At a conservative estimate it means gate receipts are probably down more than £100,000 in the space of two years.
Any chances of another lucrative cup run were killed off by defeat to lower league Brechin City.
In a further effort to curb costs, the squad was trimmed at Palmerston in the summer but this has led to difficulties on the field.
Manager Kenny Brannigan has regularly voiced his concerns at injury leaving him without enough players with regular first-team experience.
Instead, he has been forced to turn to youth team players.
Financially, it makes for something of a vicious circle. Fans will turn out in larger numbers to watch a winning team but, without investment, the chances of producing a competitive side are diminished.
It would be easy to get carried away by doom and gloom but supporters have not stood idly by to let this happen.
A Save Our South group was quickly formed when the chairman highlighted the difficulties facing the team.
They have so far raised several thousand pounds towards the cause but this seems unlikely to address the problems facing the club.
With reported losses so high, and unaudited accounts suggesting similar problems this financial year, Queens can only look to increase revenue or cut costs.
Part-time prospects
One way would be to see a rise in attendances but, realistically, it would take more than 1,000 extra fans paying full price to return the club to a break-even basis.
Another option is ground redevelopment, which is still being considered.
That might produce a significant investment and new revenue streams for the club by providing other facilities around Palmerston Park.
Finally, there is the prospect of going part-time, which many fear would effectively consign the club to the Second Division in the not-too-distant future.
It is a long way from Scottish Cups and trips to Denmark in the Uefa Cup, but if it ensures survival of a team approaching its 100 years in football it may be a step that has to be taken.
Otherwise, even the dream of dancing in the stands at Hampden might be extinguished for good.