Dumfries campus cuts 'can ensure future'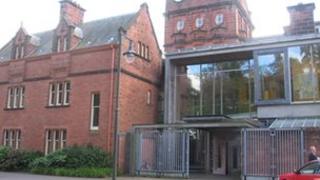 The director of the University of Glasgow's Dumfries campus has said course cuts can help ensure the institution's future is sustainable.
The university's court is considering dropping degrees in liberal arts in favour of environmental management.
It is part of a wider cost-cutting programme which aims to save £20m over the next three years.
Head of the campus, Professor David Clark, said the move was simply responding to student demand.
He said this year there has been upturn in liberal arts applicants, bucking the trend set in previous years, but that a one-off rise was not enough to sustain the course in the long-term.
"The issue about the liberal arts is that the recruitment figures for it and those taking the course have been in steady decline over a long period of time until this year," he said.
He said the recent upturn had been entirely a product of the clearing system.
"Every part of the university will be taking its share of these cost reductions," he added.
"Part of my job is to minimise them as far as possible here in Dumfries.
"We're still at an early stage of our development here, we have only been in the town for a dozen years and there is a long way to go to establish our work here on a sustainable basis."
New staff
Prof Clark stressed that the loss of some courses did not mean a lack of commitment to the site.
"What I have to emphasise is there is no reduction in the number of students we will be teaching," he said.
"This is not about reducing our numbers - in fact we want to grow our numbers here.
"Even in recent times we have been investing in new staff."