Borders General Hospital infection risks reduced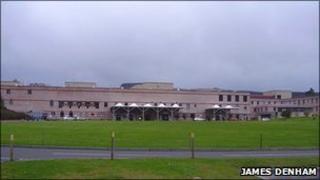 Inspectors have reported "significant progress" in tackling infection risks at Borders General Hospital.
It follows a third unannounced visit in the space of a year by the Healthcare Environment Inspectorate (HEI).
A first inspection in March last year raised a number of concerns about efforts to protect patients.
However, the latest visit in December praised the hospital's cleanliness and the "good communications between staff at all levels".
HEI chief inspector Susan Brimelow said: "I am very pleased to see significant progress at Borders General Hospital since our previous inspection in March 2010 which led to 13 requirements and four recommendations for improvement.
"As a result of previous inspections, executive and hospital management walk rounds and an NHS Borders internal inspection team have been introduced.
"There are still some areas that require improvement, including more effective schedules for cleaning patient equipment and better implementation of NHS Borders policy for checking mattresses."
She said that in general "good progress" had been made and the hospital was a "great example of how inspection can help drive improvements in the care patients receive".
'Tremendous effort'
Three requirements and three recommendations to further improve infection control have now been issued by the HEI.
NHS Borders chief cxecutive Calum Campbell welcomed the report.
He said it was clear "outstanding progress" had been made and the reduction in areas of concern was "testament to the tremendous effort" of staff at the hospital.
"Patient safety is our number one priority and we have shown we are committed to providing high standards of care, cleanliness and hygiene to minimise the risk of healthcare associated infection," he said.
Health Secretary Nicola Sturgeon said it was "heartening" to see the improvements being put in place.