Union anger at Dumfries and Galloway College cuts plan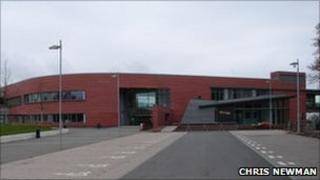 An education union has condemned cost-cutting plans which could see 37 posts lost at a south of Scotland college.
A letter outlining the proposals was issued to staff at Dumfries and Galloway College last week.
Dozens of courses are also earmarked to go, cutting the number of student places available.
Lecturer Steve James, branch secretary for the EIS-FELA union, said there was anger that management posts would remain untouched.
The college is facing a reduction in its support grant of more than £1m and has drawn up plans to tackle the situation.
However, Mr James said the union rejected the proposals and would be coming up with a formal response.
"There is definitely an imbalance between the way it is hitting lecturing staff in particular and the fact that it is not hitting the senior management team at all," he said.
"We find that surprising.
"Our job is to deliver education and it seems to be that you are cutting that front line service and that seems to be the wrong way round to us."
He said he understood the £1.1m cut would not "go away" but he said the emphasis was wrong in what was being proposed.