Dumfries and Galloway College cuts could cost 37 posts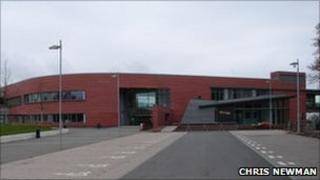 It has been revealed that 37 posts could be lost at Dumfries and Galloway College as it faces funding cuts of more than £1m.
Dozens of courses are also earmarked for withdrawal, which would see hundreds of student places lost.
A letter has been issued to staff outlining management proposals to deliver the savings required.
It stated that it was hoped the cuts could be achieved on a voluntary basis at the Dumfries facility.
The Scottish Funding Council is reducing the support grant to the Crichton-based further education institution by 10.4%.
That equates to a budget reduction of just over £1.1m.
Management proposals to deal with the situation would see 19 lecturing positions and 18 support staff roles lost.
More than 60 courses could also be withdrawn - reducing student places by more than 600.
In a letter to staff, Principal Tony Jakimciw said they aimed to deliver staff reductions on a voluntary basis - either through a severance scheme or by agreeing permanent reductions in working hours.
However, with further funding cuts expected of 5% in each of the two terms up to 2014, he warned that the college was unlikely to be able offer voluntary redundancy packages in future years.