Locharbriggs police station closure consultation pledge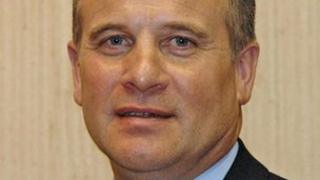 Dumfries and Galloway's chief constable has said no date has been set to close a police station under review.
Patrick Shearer issued a statement after the release of a memo which revealed plans to shut the Locharbriggs site at the end of next month.
He said the station was under review but insisted that no decision on its future had been taken.
Councillor Jeff Leaver, who saw the memo, said any plans needed to be made sensitively and in full public view.
The release of the document has been blamed on a managerial error.
However, Mr Shearer said that although the date of 31 March had been given as a potential closure date that was no longer the case.
"We recognise the importance of community consultation and the ultimate role and accountability of the police, fire and rescue committee," he said.
"The formal consultation process is now under way and local elected members, Nithsdale Area Committee and Heathhall Community Council are all due to receive formal presentations over the next few days.
"This consultation will allow for open and meaningful dialogue to be made on the shape and extent of the service to be provided when the station closes."
He said it would also allow for the community to "receive reassurances" in relation to the future service they would receive from police officers.
"We recognise that the closure of any police station is a sensitive issue and are committed to carefully working with all those who may be affected by the decision, and with those who represent the community, in whatever form," he said.
Labour councillor Mr Leaver said he was "disappointed" in the way the matter had been handled.
"We have no idea whether there were alternatives to outright closure or how this will affect Locharbriggs area," he said.
"Councillors are currently scrutinising council cuts line by line and it is totally unacceptable that when it comes to police budget we are kept in the dark."
He said the timing of the move was of particular concern.
"There has been a lot of debate recently about a single Scotland-wide police force and people saying we need to keep Dumfries and Galloway Constabulary," he said.
"But the reality is we don't actually have a police force accountable to the people of Dumfries and Galloway at the moment. "