Borders cycling festival lands fund boost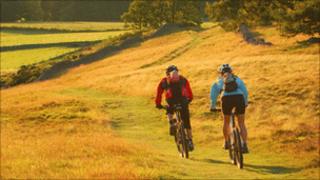 A cycling festival in the Borders has landed funding to improve the week-long event, which started last year.
The Tweedlove festival has been given an award of more than £10,000 from EventScotland to promote the project.
Organiser Neil Dalgleish said he was delighted that the "huge potential" of the event had been recognised after just one year in existence.
The festival, which includes road and mountain bike rides, runs from 11 to 19 June in the Tweed Valley.
EventScotland CEO Paul Bush said: "Tweedlove is an excellent example of events that we fund through the national funding programme across the country.
"It has something for everyone and we feel the mix of sport, music and film will attract a wide range of locals and visitors to the area with the potential to grow year on year."
Co-organiser Emma Guy welcomed the funds boost.
"It's fantastic that we're getting the opportunity to grow Tweedlove," she said.
"We got off to a great start last summer, and we are looking forward to taking it up a level.
"However, we are still looking for more support to get it all working smoothly."