National Trust for Scotland seeks property repair funds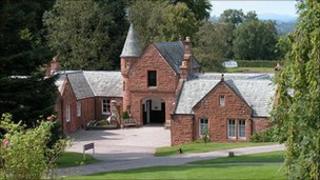 The National Trust for Scotland has launched an appeal for funds to repair properties damaged by winter weather.
Chief Executive Kate Mavor said that £100,000 was a "conservative estimate" of the extra spending required.
Among the worst affected sites were Threave Gardens in Dumfries and Galloway, Mar Lodge Estate in Braemar and a croft on the island of Canna.
Ms Mavor said that insurance would cover some costs but they needed "extra help" to repair such "heritage gems".
Properties across Scotland were affected by freezing temperatures and heavy snowfalls in December.
The NTS said it was counting the cost of broken gutters, burst pipes and damaged trees and shrubs.
At the Threave Estate in Castle Douglas about £15,000 is estimated to be needed to repair paths cracked by frozen water.
'Extra costs'
Missing slates and destroyed guttering carry a £5,000 price tag at the Mar Lodge Estate.
High winds were the main problem on Canna where the roof was ripped from a croft building, tiles removed from neighbouring structures and a pier gangway lifted from its tether.
Ms Mavor said: "With so many historic places in our care, we're only now beginning to understand the size of the repair bill that this winter's weather has caused.
"As a charity, we rely on our supporters to help us meet these unforeseen and unfortunate extra costs."
She said any funds raised would be used to ensure the sites were "ready to welcome visitors in the spring".