Halo Trust landmine clearing contract ruling risks jobs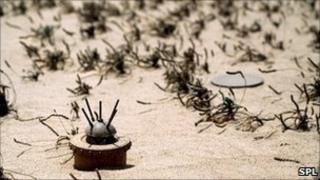 A Scots landmine clearance charity is facing job losses after losing a court row over a £3.5m government contract.
The Dumfriesshire-based Halo Trust mounted a legal challenge at London's High Court after losing out to Mines Advisory Group (MAG), from Manchester.
It claimed the move by International Development Secretary Andrew Mitchell breached procurement rules.
High Court judge Mr Justice Akenhead called Halo's challenge "relatively weak" and refused to block the award.
The deal is now due to be finalised on 1 February.
The ruling was a blow to Halo, which employs about 1,000 people on mine clearance work in Cambodia, more than 400 of whom are now at risk of losing their jobs.
The judge said: "It is perhaps unfortunate that a well-known charity such as Halo finds itself coming to court in effect to prevent another charity from proceeding with worthwhile work, albeit that part of its motivation is clearly to seek to preserve its mine clearance workforce."
Halo's barrister, Mark Clough QC, had accused Mr Mitchell of fostering a "misguided" policy to link mine clearance in Cambodia to wider development objectives and breaching "principles of transparency and equal treatment".
He argued that, had procurement rules been properly followed, it was "highly likely" that Halo would have won the contract over MAG, which also has a substantial presence in Cambodia.
However, refusing to block the contract award, Mr Justice Akenhead described Mr Mitchell's policy as "a worthy one" and said the trust's arguments were "at the weak end of the spectrum" and did not raise "serious issues to be tried".
The judge said he hoped Halo staff who lost their jobs would be able to move to MAG and that Halo could find alternative funding to continue its good work in Cambodia.
He concluded: "There can be no doubt... that both Halo and MAG have been doing extremely worthwhile work in Cambodia in connection with the clearance of landmines and other ordnance.
"Nothing which I have said in this judgment should in any way be taken as meaning or implying any criticism of either organisation for the work which they have done in that regard and will continue to do."
A Department for International Development spokesperson said it was delighted the UK could continue its demining work in Cambodia.
"As the judge has recognised, the contract was awarded following an open and competitive tender under standard UK procurement rules," he said.
"In addition to their ability to clear mines and ordnance, the organisations were measured against plans to help communities recover from the devastating effects of mines."