Glentress forest centre service bids selected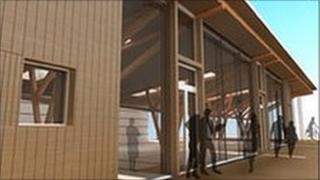 Two preferred bidders have been selected to run services at a £8.5m forest visitor centre in the Borders.
The Glentress Peel project, being built by Forestry Commission Scotland, has been described as a potential "jewel in the crown" of tourism in the region.
The area already attracts about 300,000 walkers and mountain bikers every year.
Alpine Bikes and GT Restaurants will take forward bids to provide services. Current operator, The Hub, will continue until its leases run out.
The new development is expected to open in the spring.
Edinburgh-based Alpine Bikes has shops across Scotland, including one in nearby Innerleithen.
GT Restaurants is a new Peebles-based operation set up by Claire and Olivier Bony, the owners of the Glentress Hotel.
Formal discussions will now begin with the two companies on contracts to run the new bike shop and cafe in the visitor centre complex.
'Resounding success'
Bill Meadows, FCS district manager for Dumfries and the Scottish Borders, said it had carried out a "very thorough, open and fair tender" in order to select the preferred bids.
He said the firms selected were "keen supporters in making Glentress a top-class visitor attraction".
Alpine Bikes director Bryan Shedden said he looked forward to ensuring the development was a "resounding success".
Claire Bony, of GT Restaurants, said her company hoped to help to create a "five-star visitor attraction".
FCS said it was committed to working with the current operator for the remainder of its agreements.
The Hub's permission to run the bike shop runs out next month and its cafe lease expires in February 2012.