First minister urges schools to visit Burns museum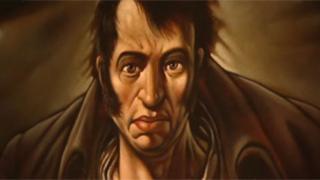 The first minister wants every school child to visit the new Robert Burns Birthplace Museum in Alloway.
During a special Burns Day message, Alex Salmond said schools would be given help to meet the cost of travelling to the museum.
"Young Scots should leave here with a new pride and understanding, not just in our national poet, but in themselves too," he said.
Mr Salmond also paid tribute to the work of Scotland's Makar Liz Lochhead.
The new national poet, who is one of the contributors on a new BBC audio archive of Burns, officially opened the museum last week.
Mr Salmond said children visiting the museum would learn how a peasant farmer writing in rich Scots came to be celebrated around the world.
He explained: "Why? Because he spoke of universal themes like the right to happiness and how all human beings are created equal - that 'pith o sense and pride o worth' are more valuable than wealth or status."
He said the Scottish government had increased funding to the Heritage Education Travel Subsidy Scheme by almost 20% to £150,000 to help schools make the trip, and it had also launched a free Burns app for those unable to visit "right away".
Mr Salmond described how Burns "owed a huge debt to the women in his life - his grandmother, mother and wife who all had an incredible memory for the Scots ballads, lullabies and old folktales, even psalms".
"The role of women in our culture is often overlooked even today.
"That's why I am particularly delighted that our new Makar, or national poet, Liz Lochhead opened the museum just last Friday."
He said her work had similar themes to Burns.
"The message of Liz Lochhead, and of Robert Burns, is that you can take the speak of an Ayrshire farmhand, or a Glasgow school child, or the speak of the Doric of the North East of Scotland and communicate with all of humanity," he said.