Lockerbie inquiry petition 'remains open'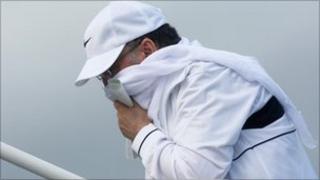 A petition calling for an inquiry into the conviction of the Lockerbie bomber has been kept open despite an earlier refusal from the Scottish government.
The Justice For Megrahi (JFM) group handed over a petition to the Scottish Parliament in October last year.
It sought an independent probe into the case of Abdelbaset al-Megrahi, the only man to be convicted of the bombing which killed 270 people in 1988.
The petitions committee agreed to write to the government and Lord Advocate.
The JFM group claimed it was "imperative" that the case be examined once more.
However, the Scottish government has already indicated that it has no plans to hold an inquiry and "does not doubt the safety of the conviction".
Megrahi dropped a second appeal against his conviction in the run-up to Scottish Justice Secretary Kenny MacAskill's decision to free him on compassionate grounds in 2009.
Megrahi had previously been diagnosed with terminal prostate cancer.
About 1,500 people signed the JFM petition before it was lodged at Holyrood.
Dr Jim Swire, whose daughter Flora was killed in the bombing, sat through the proceedings during the parliamentary session.
He later said the Scottish Criminal Cases Review Commission (SCCRC) had already decided there may have been a miscarriage of justice and urged the government to open an inquiry.
Dr Swire added: "I think this will be unwelcome in the dying days of the Scottish government to have had this decision by the committee.
"The issue here is so much greater than Scottish party politics. This is not about the SNP. This is about the integrity and, above all, the credibility of Scottish justice."