Dumfries man jailed for fracturing girlfriend's skull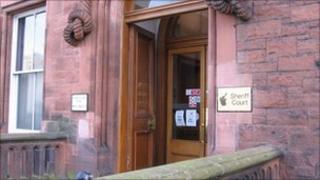 A man who broke his girlfriend's skull in an attack at a house in Dumfries has been jailed for a year.
Stephen Wain, 38, was also put on a supervised release order for six months at the town's sheriff court.
He admitted throwing a piece of crockery at the woman at a house in Fairford Court in November last year.
Dumfries Sheriff Court heard she was left with a compressed skull fracture and had to be taken to hospital in Edinburgh for an operation.
A doctor dealing with the case said that if the surgery had not taken place the injury could have been life-threatening.
Wain claimed the attack only took place because of pills he had taken beforehand.
He told the court his relationship with the woman was now over.
Sheriff Kenneth Ross said the assault had had a lasting physical and mental impact on the victim.