Coldstream nurse left patients to help sick wife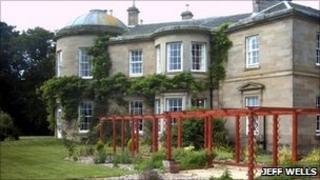 A former nursing home manager who was disciplined for leaving a double shift to get morphine for his sick wife has been allowed to continue to practise.
David Robinson left Lennel House in Coldstream for 20 minutes because his wife urgently needed the painkiller.
The 54-year-old, the only nurse on duty, told a groundsman to "hold the fort" with two care assistants.
The Nursing and Midwifery Council gave him a one-year caution order but described it as an "isolated incident".
A fitness to practise panel was told he went on the errand at about 1600 GMT on 12 February 2008.
Mr Robinson said he had been due to finish work, but the nurse scheduled to relieve him had called in sick forcing him to work a double shift.
Both of his managers at home-owner Guardian Care (UK) Ltd were on sick leave and could not be contacted.
Mr Robinson told the hearing his wife, who had recently undergone surgery, was in "severe pain" and he had been warned not to leave her alone.
The panel issued a formal warning for his "serious error of judgement" in leaving the home without a qualified nurse on site.
Judith Worthington, who chaired the hearing, said his actions "had the potential to compromise the health, safety and wellbeing of vulnerable patients".
He was also criticised for allowing his wife to stay at the home overnight and help with residents' laundry.
Mr Robinson, who had worked for Guardian Care since 2007 and first registered as a mental health nurse in October 1999, was cleared of a further charge of allowing his wife to help with drug rounds.
He is now a "vocational learning assessor" and lives in Diss, Norfolk.
Mr Robinson told the hearing that the home had been in "terminal decline" until he began managing it but he had turned it around and upgraded the business from a care home to a nursing home.
He added: "At the time of this situation, I was working over 70 hours and I shouldn't have been working a night shift at all.
"I admit common sense would suggest I don't bring my wife in but she had a serious operation and the advice was she should not be left alone.
"Unfortunately, because we lived in quite a rural area, she didn't actually have a support network."
'Severe pain'
He said he had faced a difficult decision on the day in question.
"I really didn't know what to do because I didn't want her to feel ill but I also didn't want to leave vulnerable adults," he said.
"She was in severe pain."
Imposing a one-year caution order, Ms Worthington said the panel was "firmly of the view that he failed to put the safety and interests of his patients before the needs of his wife".
However, she added: "Mr Robinson is a highly competent nurse who was largely instrumental in making significant changes to the organisation of Lennel House resulting in the status being upgraded to a Registered Nursing Home.
"This was clearly an isolated incident in an otherwise unblemished career and there is a low risk of repetition."