Selkirk £19m flood defence scheme agreed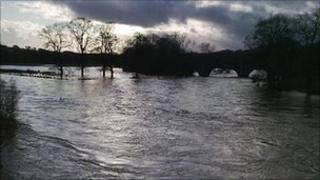 A £19m preferred design for flood defences to tackle problems in Selkirk has been agreed by Borders councillors.
The scheme will be unveiled at a public exhibition in May and final approval is hoped for in the autumn.
The council has admitted the work may take many years to complete but hopes to tackle it in six stages.
That would allow some construction work to get under way next year while plans to make more use of natural defences are also taken forward.
In 2011 terms, the final outlay for the project would be about £18.8m.
However, it has been estimated that total potential damage from floods in all the threatened areas would amount to at least £30m.
Selkirk has suffered regular flooding problems in recent years.
One of the most serious was a flash flood in the Bannerfield area of the town and nearby Broadmeadows in May 2003, caused by an exceptionally heavy thunderstorm.
In 1977 a road bridge in the town was swept away by the rushing waters of the River Ettrick.