Thornhill farmer recalls burn search for missing wife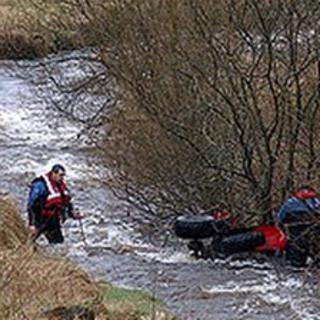 A farmer has told an inquiry how he searched "fearsome" waters for his wife after finding her quad bike nearby.
Robert Weir, 62, waded into the burn near their home at Crairieknowe Farm near Thornhill, north of Dumfries.
It led to a major search operation for Linda Weir, 58, in April 2010. It took 17 days before her body was found about 20 miles downstream by a fisherman.
Sheriff George Jamieson is expected to deliver his findings from the Dumfries fatal accident inquiry later this week.
Mr Weir told the hearing how he had gone out to tend to cows on the farm he ran in partnership with his wife on 5 April last year.
He said he had become concerned when she had not returned for coffee after going out to feed their sheep.
Mr Weir and his daughter, Hazel, 31, who also worked on the farm, searched the fields without success until he saw the red rear light of the quad bike shining from the stream.
It had been washed about 200 yards downstream from a crossing which she normally used.
Breast cancer
He said: "An undercurrent had swept gravel away and the crossing, which would normally have been about six inches, could have been two to three feet deep.
"The water was fearsome and fast."
He added that since tree planting had taken place higher up the hill it was inclined to flood quickly.
Mr Weir went on to say that his wife, who had successfully battled breast cancer for about seven years, had been riding quad bikes since 1987 and was very careful after a sliding accident a couple of years earlier.
A post-mortem examination revealed the cause of her death as drowning.
The inquiry is being held at Dumfries Sheriff Court.